Buying Guide
5 questions to ask before buying a quilt
How is the quilt made?
As an investment, you'll want your quilt to be made ethically, and made to last. It's why we hand stitch and hand fill each of our Abode quilts in Melbourne for assured and trusted quality.
There are also a number of techniques that keep your quilt filling from moving around too much. As the filling is the insulator, you'll want to keep it snug in place to avoid any cold spots.
We've found our unique sealed baffle-box technique to be by far the most effective way to keep down in place. Baffle-boxes are neat cubes woven inside the fabric to limit filling movement. Over time, however, traditional baffle-boxes allow down to move through the filling holes. Instead, our Abode baffle-boxes use a clever sealing technique that's unique to Australia. This means down doesn't ever escape from its box, even after years of use. We also design our sealed Abode baffle-boxes so they're generously sized and significantly higher than most. This gives down extra room to rise and loft so it becomes a more effective insulator.
Find out more about our Melbourne craft here.
As an investment, you'll want your quilt to be made ethically, and made to last. It's why we hand stitch and hand fill each of our Abode quilts in Melbourne for assured and trusted quality.

Robert Adair
What's the quilt filling?
Arguably the most important component of your quilt is the material or fibre it's filled with. From polyester to feather and down to wool, there are ample choices, each with their own merits and detractions. Whilst synthetic materials are more affordable, they're heavier and don't allow your skin to breathe like natural materials do. They also tend to be less resilient, so whilst they're more affordable at the time, this value tends to diminish. Wool is very warm, but feels quite heavy in comparison to feather and down. However whilst feathers feel light, they don't keep the warmth in as effectively and have a denser feel due to their quills.
For us, there is nothing that comes close to the weightless warmth of down. Try as man might, we can't mimic down's incredible insulating properties with synthetic materials. Every organic, three-dimensional piece traps warmth in each tendril whilst weighing practically nothing. This creates a quilt that feels warm yet effortlessly light, for blissful cloud-like comfort.
If you are allergic to dust mites, however, we might suggest our Mundo or Juno silk quilts.
We don't see why allergies should mean second-best, so hypoallergenic yet naturally luxurious silk makes a great alternative material. You can read more about how to make your bedroom allergy free here.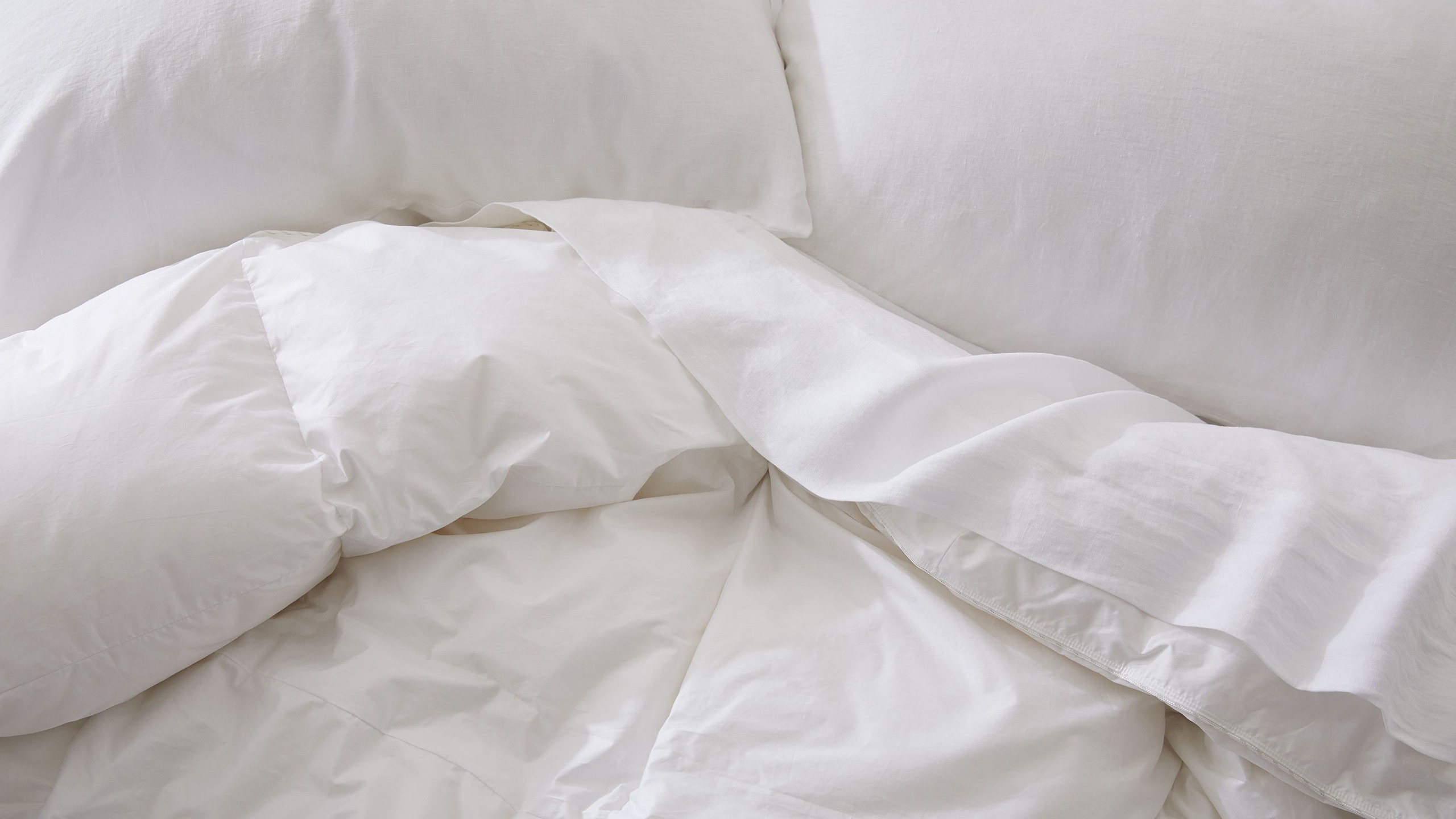 What fabric is the quilt shell made from?
When your quilt is made with natural, breathable materials, you want to look for a shell that's made with natural, breathable materials to match. This not only lets your skin breathe throughout the night without stifling you; it also keeps your quilt filling fresh so it lasts for longer.
For our entry level quilt Polish 550 quilt, we offer cotton that's woven in China for an affordable price point. German-made high thread count cotton encases the other quilts in our range, with a tight sateen weave that feels effortlessly light yet totally down-proof.
The last word in luxury is Masuren 900, enveloped in sublimely soft silk.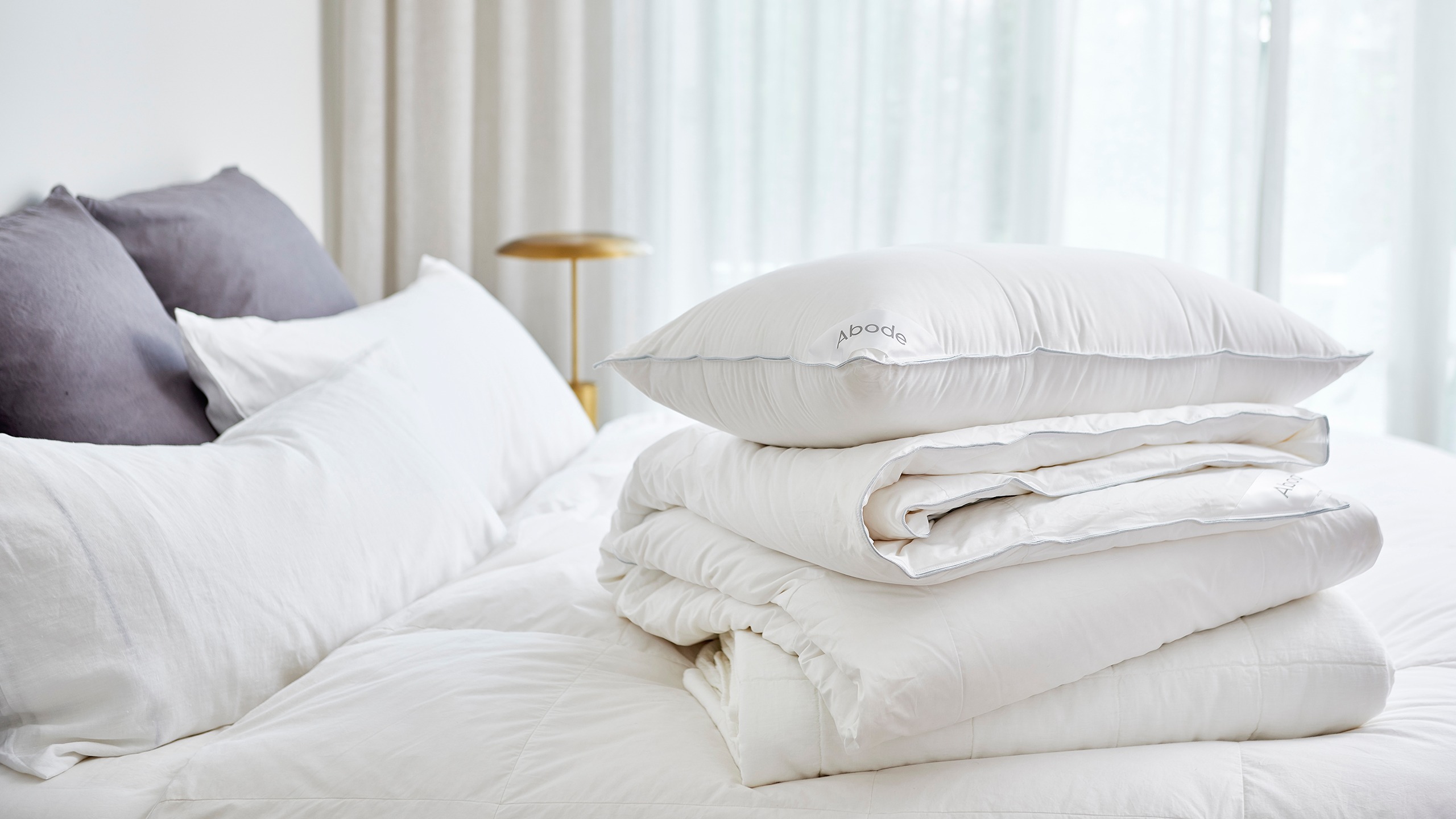 Is the quilt best for summer, winter or any season?
Each body temperature runs differently, so the ideal 'summer' or 'winter' weight is rather subjective. Instead, we proudly offer four warmth levels to suit each individual need and taste, and we measure it in blankets. Light Warmth is similar to the feel of one blanket, Extra Warm is similar to the feel of four blankets.
Since we hand fill our quilts in Melbourne, we even offer a 'Marriage Saver' quilt option that allows you to have half your quilt as a lighter warmth for when your partner runs at a different temperature.
Please note, when we say our unique sealing technique keeps down evenly distributed, we really mean it. We can therefore only put extra down inside a quilt; we can't ever remove it. If you're wavering between two warmth levels, we'd recommend you buy the less warm one, as we're able to adjust.
We do also offer quilts that are crafted especially for warmer weather. Findia 750 has a clever channel design to allow heat to escape down the seams.
For cooler weather, we'd recommend our Medium Warmth or Extra Warmth levels. Added blankets, coverlets or throws are perfect to layer for the exacting snug feel you're after that particular night.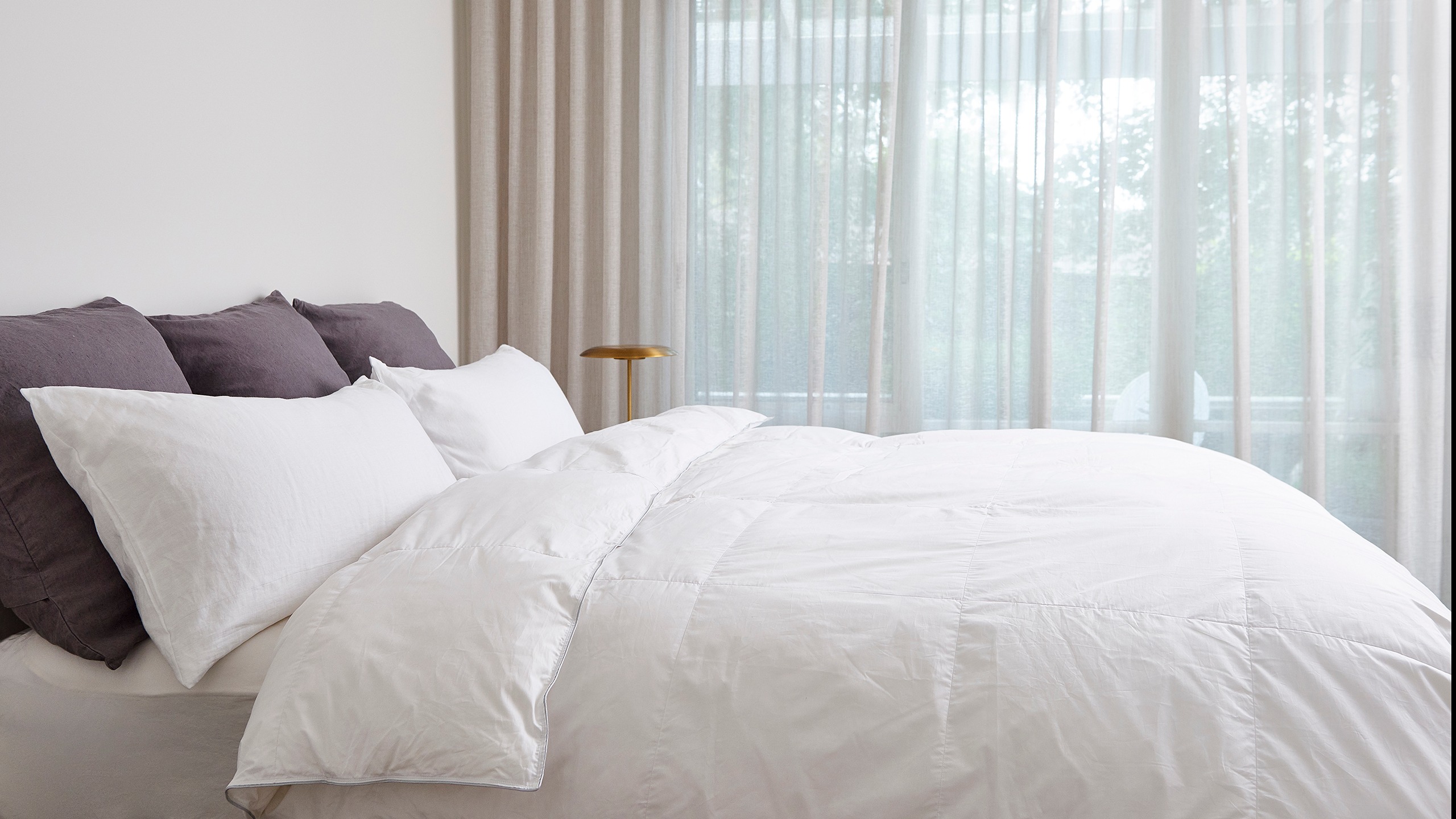 How carefully is the quilt filling sourced?
When you're sleeping with a material night after night and breathing in close quarters, you want to make sure it hasn't been treated with any chemicals that could be potentially harmful.
Down quality is measured by fill power, or its ability to loft, rise and insulate. The higher the fill power, the finer the quality of down. This means your quilt will feel just as warm, with even less weight. Our quilts' fill power range from our Polish 550 to our Masuren 900 (by comparison, the standard department store quilt is usually 400 fill power). For each quilt, you can choose what warmth level you'd like. A higher fill power just means you'll feel the same warmth with less weight for blissful cloud-like comfort.
We're very lucky to harness the incomparable power of nature in our products. Protecting animals and the environment to European standards is absolutely essential in our eyes.
Abode down is thoroughly cleaned and sterilised to European health and environmental standards. Our eco-safe textiles are free from formaldehyde, chlorine, heavy metals and other harmful chemicals. As a by-product of the food industry, down also has a lower carbon footprint than synthetic materials.
Make sure your quilt's down is ethically sourced and meets both Responsible Down Standards and Downpass auditing to safeguard animal welfare to European standards. This means the birds live healthy lives and never suffer from fear or pain. Feel free to read more about how we source our feather and down just here.