Nature escape:
A weekend getaway to the Mornington Peninsula
The Mornington Peninsula has a special, romantic charm about it – winding roads fringed by lush trees, a coastline sprawling with incredible rock formations, the calm bay filled with crystalline water that invites you to just dive in (although a word of warning: it can be teeth-grindingly icy during the cooler months).
Autumn is a wonderful time to visit this region. The days are still warm enough to enjoy outdoor delights, while the cooler nights are perfect for cosying up in your comfiest layers, heater on and a glass of rich, flavoursome red wine close to hand.
Just a few clicks down the freeway, the Peninsula is close enough to make a weekend getaway possible, while far enough from the city to feel like you've left your daily worries behind. Depart on a Friday lunchtime and you could be enjoying a cheese platter by an open fire before sunset (having stopped at a local providore to pick up supplies, of course).
As for the rest of the weekend? The options are endless. But with natural delights at every turn, you're sure to return to the city with your belly filled and spirit recharged.
What to do
It's not a trip to the Mornington Peninsula without a visit to the famous Peninsula Hot Springs, Australia's first geothermal springs. There is something truly invigorating about slipping into a hot pool of natural spring water on a misty afternoon.
The region is also a fabulous place to pull on your hiking boots and go for a wander. The walk from Cape Schanck to Bushranger's Bay is quick and peaceful (approximately five kilometres return). Or head inland to Arthur's Seat for some incredible views of sparkling Port Phillip Bay below. For something on the wild side, take a drive to Point Nepean National Park at the tip of the peninsula to explore rugged coastal trails.
Where to stay
Surrounded by vineyards and with gourmet food experiences within walking distance, the Red Hill Barn offers a cosy spot to base yourself as you explore the Mornington Peninsula. Enjoy waking up in the light-filled space on a cool autumn morning, wandering into the kitchen for an invigorating cup of coffee and relaxing on the deck with a soul-fulfilling read.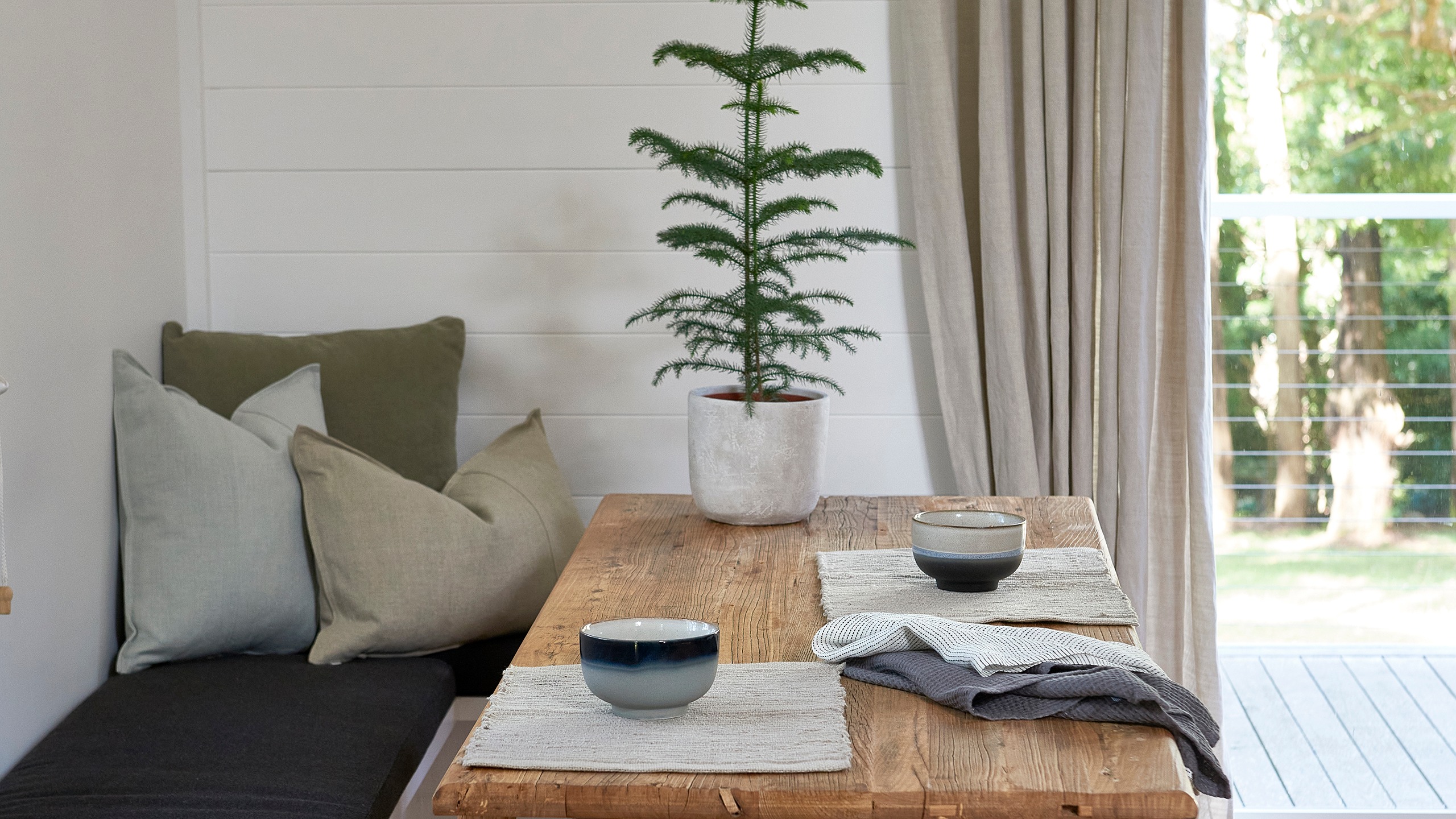 Where to eat
The Peninsula is renowned for its locally-grown produce and you'll find a plethora of restaurants showcasing the best of the region. Local favourites include Johnny Ripe for a modern take on a classic apple pie and Transition Farm for true garden-to-plate dining.
The cool climate of the Mornington Peninsula also produces some world-class pinot noir, among other winning wines. Take in the 180-degree views at Point Leo Estate, sample their award-winning wines and explore over 40 works of art in the estate's sculpture park.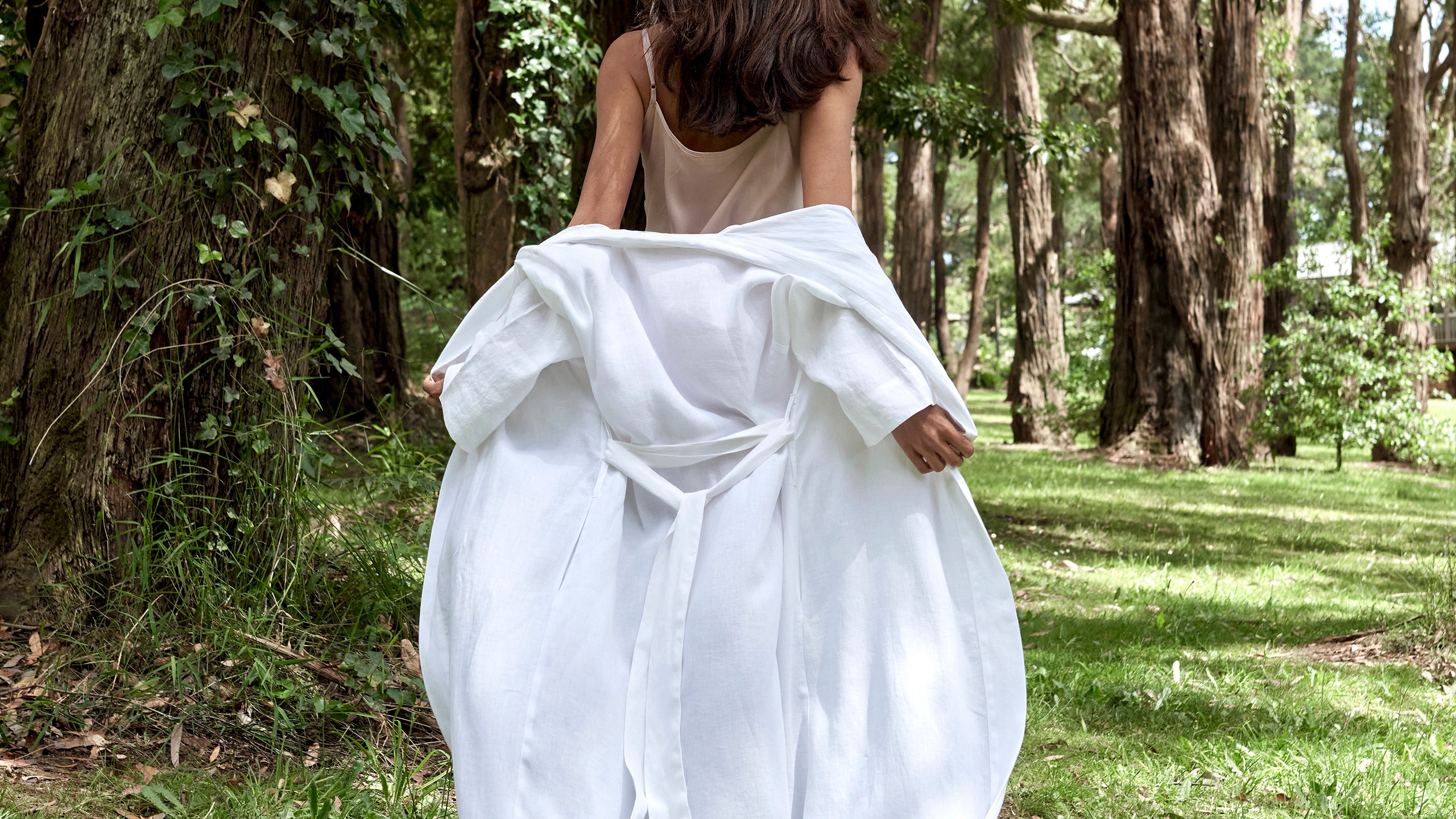 What to pack
A trip to the Mornington Peninsula is all about getting closer to nature, so pack accordingly. Autumn weather can be fickle; come prepared with clothing and loungewear that can be easily layered, in natural fibres that feel as good on your skin as they are on the environment.
The irresistibly soft staples in the Sylvie range are crafted from a beautifully light sand-washed silk that feels fluid and soft against the skin. Naturally temperature regulating, silk has the ability to both cool and warm the body, making it ideal for autumn's temperate days and nights. This beautiful collection features a coordinating selection of camisoles, shorts, pants and robes so you can layer up accordingly.